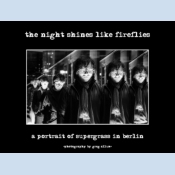 In early 2008, Greg Allum Photography plans to self publish a very limited edition photography book based around Supergrass's 6th album sessions that took place in Hansa Studios, Berlin, throughout May 2007.
The book features beautiful black and white images of the band working on material, lovely cityscapes of Berlin itself and exclusive images not available anywhere else.
The book is in it's early stages at the moment but it is a very unique project, avoiding the lure of publishing deals and corporate companies, Greg Allum Photography has created a piece of work that is exclusively produced and distributed by himself, thus saving extortionate costs passed onto the consumer by high street and online retailers.
This book will be available to purchase directly through
www.gregallum.co.uk
and
www.myspace.com/gregallum
and at Supergrass gigs in the future
(TBC)
.
Keep scrolling for sample photographs from the book, then visit the above web sites to find out more, register your email address for updates, or register your name for a pre-order.